Does Options Trading ring a bell? It is a trading strategy involving buying or selling contracts called options. The Sensibull Option Chain is a popular choice among options traders.
In this article, you will find everything about Sensibull's option chain. And whether Sensibull's option trading is reliable.
What is Sensibull?
Sensibull is an Indian options trading platform established in the year 2017. It is the first choice of option traders in India as it offers features like Option Chain, Option Greeks, Virtual Trading Stimulator, etc. 
Founded by Abid Hassan, Sidhart Reddy and Balajee Ramachandran & headquartered in Bangalore, Karnataka. Sensibull is a broker platform you should explore and benefit from its financial tools. 
Pros and Cons of Sensibull Option Chain
Pros
Cons:
You can access the best strategy engine and trading platform.
Supports limited brokers. It needs to be more straightforward for novice traders. 
If you are a beginner opt for Tradeeu as your options trading broker
Sensibull offers features like a virtual trading stimulator, event calendar, etc.
Comprehensive option chain user interface
Sensible is a licensed broker under SEBI.
Free on Zerodha and Angel One platforms
A Quick Overview of Options Trading
Options trading allows you to bet on the price movements of underlying assets like stocks or securities. It's similar to futures trading, where you can call or put options for buying or selling the stocks respectively. You can also consider platforms like equiity for options trading. 
What is an Option Chain?
Option chain refers to the list of call and put options strike prices along with their underlying assets and expiration date. It simplifies options trading by putting the available assets or options on a list.
The underlying assets of these options can be stock or security. You can invest in these assets through the option chain list.
Moreover, the option chain helps you judge an asset's price hike or drop to help you make an informed decision. 
Read Also- Lexatrade Review
How to Analyze Sensibull's Option Chain?
Sensibull has a convenient option chain user interface. When you go to the Sensibull website for options trading, you will be directed to this page:


The sensibull option chain shows you the strike prices. You can call or put the option based on the strike prices. You can also find the price fluctuations and choose the better asset or option to trade with.
How to do Options Trading on Sensibull?
To perform options trading on Sensibull, follow the steps given below:
Step 1: Log in
Opening a trading account on Sensibull will be the first step. If you already have an account, then log in. You will be directed to the Sensibull dashboard.
Step 2: Customize
Once you land on the Sensibull dashboard, you have to select the options trading strategy. As seen in the picture below, you will be required to select
Asset Type
Market View: it could be above, below, between, not above or not below as per your preference.
Target: here, it means the price target.
Target Date


Step 3: Compare and Choose
Once you apply your requirements, many options will fit your target range. Sensibull allows you to compare options and pick the best one. It also offers certain filters to further break down your requirements.
Premium: This filter allows you to buy a premium option and sell the option at a premium price. If you wish to be careful about your returns, this filter can get you guaranteed returns.
Expiry: This filter lets you pick your option based on its expiration dates. Picking the most recent option might be beneficial.
Strategy: You can narrow down your strategies with the help of this filter.
Step 4: Order
Now that you have selected your preferred option to trade with. Place your Buy or Sell order on the selected option.
Platforms Offered by Sensibull
Sensibull offers three types of accounts- Lite, Pro and Free account.
Free Account
Lite Account
Pro Account
Minimum Deposit
The free account requires no deposit
Subscription of 800 INR per month
Pro account requires a 1,300 INR monthly deposit
Features
The Free account offers an option chain and event calendar.
Comparing options
Advance Event Calendar

Basket Orders

Strategy Generator

Lot Tracking (up to 10 lots)
Buy Sell data

Black Scholes Analyser
Everything that is included in the Lite package.

Customised strategies

Trade and position analysis

Lot Tracking (Up to 30)
Upcoming Features
None
Heat Mapping

Paper Trading

Customised Watchlists.

Access to Tradesafe.

Real-time updates on the Market and prices
Tools to analyse market statistics

Customised strategies

More Currency Options.

Real-time market and prices.
Free Account
The Free account only offers the basic features, including a basic option chain and event calendar. It is a recommended platform for beginners as it removes the complications other account types offer.
 With Sensibull's easy user interface, trading with a free account could become a cakewalk. For free options trading you can also go for Capitalix . 
Lite Account
Lite accounts require a minimum subscription of INR 800 every month. But it can be money well spent because you can access a wide range of tools and features. If you are an experienced trader, use this account to enhance trading performance with additional tools.
Pro Account
If you wish to challenge yourself further, trade with Pro Account to get advanced features and tools. You can get access to customised strategies and real-time market information. Going for a pro account is a no-brainer if you are a pro trader. 
Read Also- Vested vs Indmoney
Educational Resources
Sensibull supports several educational resources including video tutorials. Novice traders can take complete advantage of these demo tutorials for free.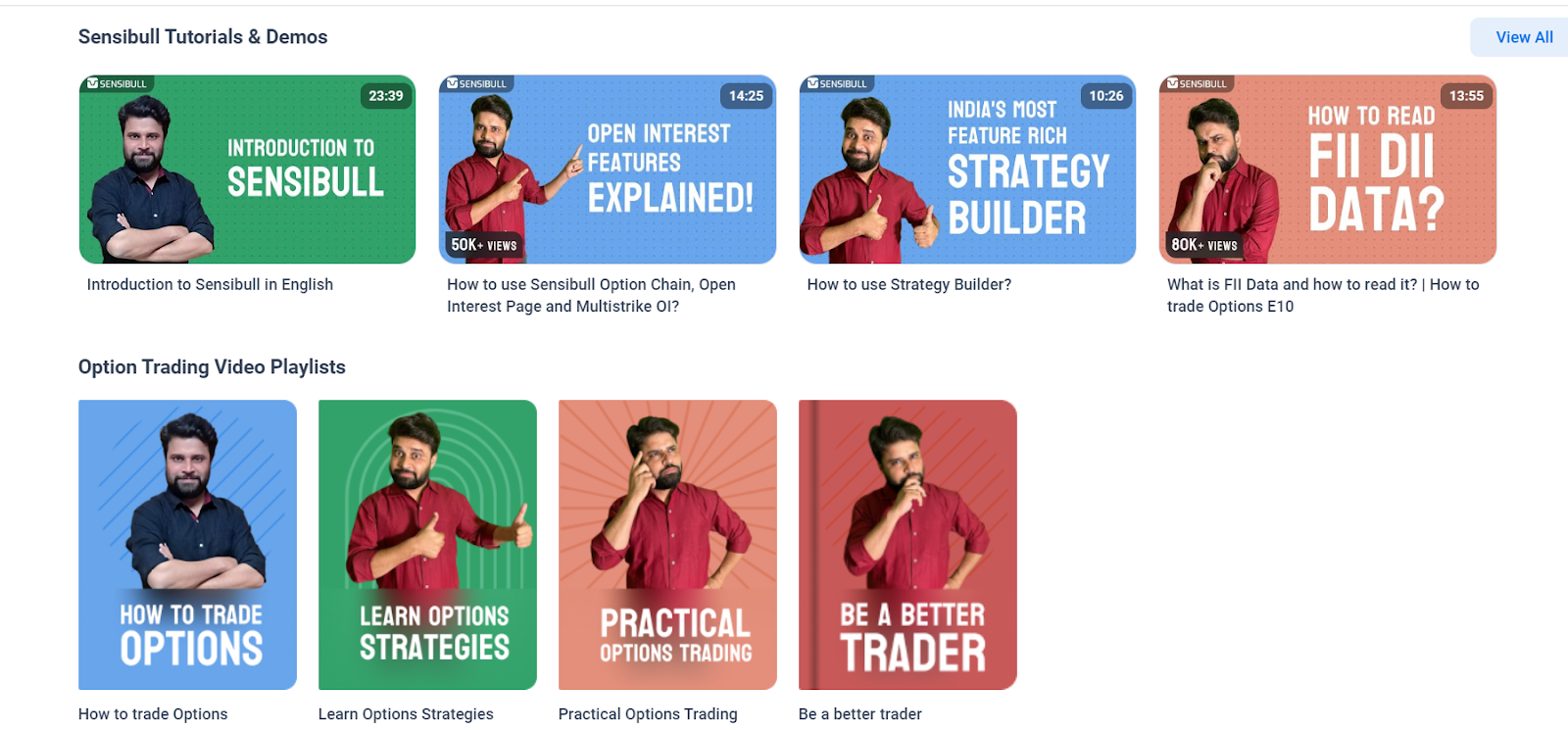 Sensibull Customer Support
Sensibull does have a chat and email support for customers. So, if you are facing any difficulties, reach out to customer support through:
You can start a live chat anytime from anywhere through your sensibull dashboard. Sources
We are claiming Sensibull to be a reliable platform for options trading and for using the options chain. These sources give an insight into customer's experiences and strengthen our claim. Check out what the customer reviews have to say: 
Trustpilot
Trustpilot is a trusted review website established in the year 2007. It is a broker review platform to share and gain information on customers' experiences with brokers. Trustpilot has rated Sensibull 3.6 out of 5 stars. The customer reviews on the broker are also positive. 
Google Reviews
Google reviews are an excellent source for direct customer reviews. Google reviews on Sensibull have been quite positive. Sensibull users have found it to be a reliable platform for options trading.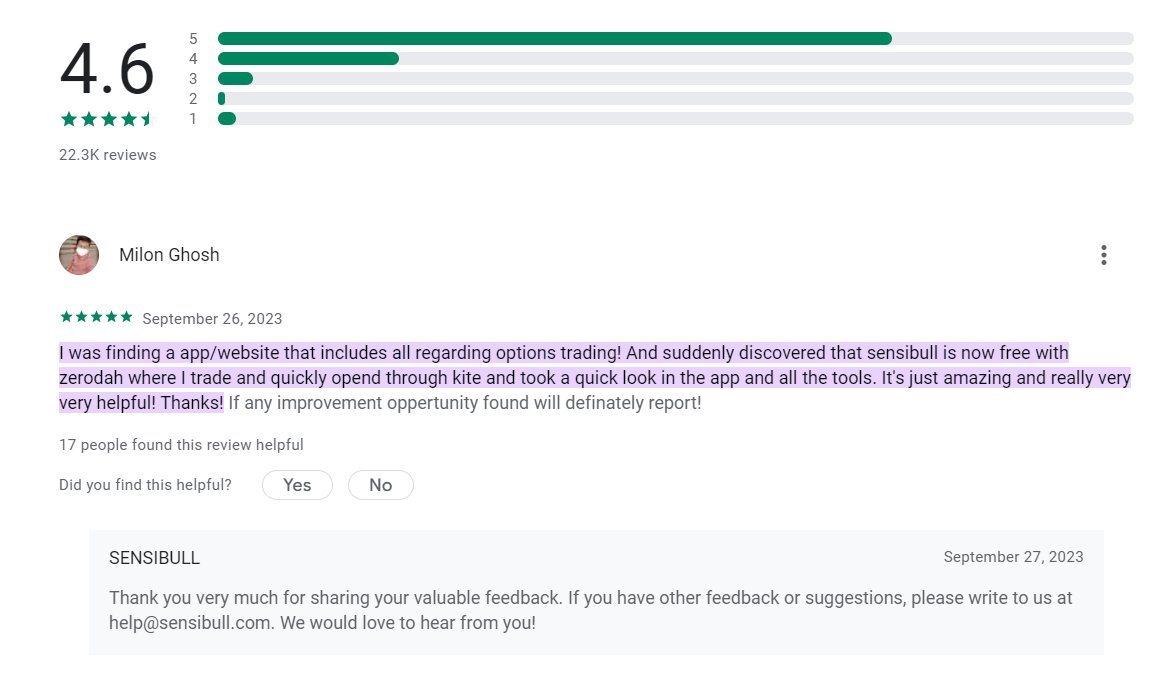 Social Media
We have found Sensibull's Facebook post with positive customer feedback. You can check out the image below. 
Conclusion
Overall, Sensibull has a good reputation as an options trading broker. Sensibull provides an easy user interface and transparency in its option chain. Moreover, you can access several tools for market and price analysis.
It's like an all-in-one package with great features, strategy customisation and positive customer feedback. Sensibull could be a great choice to fulfil your trading options needs.
FAQs
Is Sensibull Regulated?
Sensibull is regulated and Verified under the Securities and Exchange Board of India (SEBI). So you can enjoy the Sensibull services without any doubts or fear.
Is Sensibull Good for Options Trading?
We have analysed the platform and found it a good broker for options trading. It is regulated under SEBI and has good customer reviews.
What are the Features Offered by Sensibull?
Sensibull offers several features like Option Chain, Option Greeks, Virtual Trading Stimulator, event calendar, etc. You can access these features free of cost with Sensibull'd free account.
Is Sensibull Free of Cost?
Yes, Sensibull is free on Zerodha and Angel One. It's for traders who can not afford Sensibull's account packages. Sensibull believes in giving equal access to all traders.
Who Developed Sensibull?
Sensibull was founded and developed by Abid Hussain in Bangalore, Karnataka 2017. It is India's first and largest options trading platform.
Can I Take Trading Advice from Sensibull?
Sensibull's guidelines don't allow the broker to give advice. However, you can access many tools and customise your trading journey per your needs.
Why Should I Trust Sensibull? How Is Sensibull Safe?
Sensibull is a SEBI Registered platform which includes annual audits and meetings to keep track of the company's performance. Moreover, Sensibull claims to have a strong IT and product team to keep the broker quality in check.
Can I Practice Paper Tarding on Sensibull?
Yes, you can practice paper trading on sensibull! The platform offers you virtual portfolios for you to mock or paper trade without investing money.
Does Sensibull Allow Trade and Position Analysis?
Sensibull covers a wide range of futures and options for trading which includes NIFTY, BankNifty, Sensex, stock etc. You can analyze these trades and positions with Sensibull's tools.
Is There a Demo Video I Can Watch?
If you are new to Sensibull and do not know how to start, you can watch the Sensibull introductory video to gain a better insight.